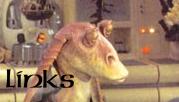 ---

Not many Jar Jar sites of any good out there, yet. But here are a few...

The best and only official fan site out there!

---

Meet Jar Jar Binks!
No, this guy didn't bring his camera into the theater...::grin::

---

Yahoo search results...
Yahoo sure is quick on the trigger to get some catagories out there!

---
Star Wars Episode 1 Phantom Menace is (C)1999 Lucasfilms Ltd.